Oct 3, 2018
Writing Off the Expenses of Starting Your Own Business 
There are several ways to deduct business expenses from your small business revenue to reduce your tax bill. Certain business deductions can reduce your revenue dollar for dollar in most instances. You can also deduct certain expenses …
Investopedia
How to Manage Your Small Business Debt
Launching your own business is undeniably an exciting but challenging endeavor. You can expect plenty of surprises as you're starting out, which is …
All Business
Generate Leads With Custom Ads
Every issue of your custom email newsletter may include two call-to-action ads located here. Use your ads to promote new offerings, highlight a service or product, provide details for an event, or anything you wish.
Newsletter Station
Cost Effective Email Newsletters
Custom email newsletters from Newsletter Station include building the newsletter, loading the content and sending your newsletter to your email list starting at $39.00/month. A tremendous bargain for high-level branding.
Newsletter Station
Reality Checks for the Self Employed
Many people aspire to starting up on their own, being their own boss and running a business. The notion that is liberating, that it is a way of making …
The Startup Magazine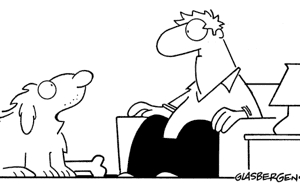 "The solution to global warming is very simple — just take me to the vet and have me shaved!"
Copyright © Randy Glasbergen
Trivia
An illustration of what TV and movie "celebrity" appeared on the teal-blue bottle of a unisex fragrance called Amphibia in 1995?
See the answer below.
Start Small and Think Globally
Brazilian media and private equity leader Eduardo Sirotsky Melzer has a message for high-tech, middle-market companies in emerging economies …
Strategy + Business
What Year Was It?
At the end of a sensational trial, former football star O.J. Simpson is acquitted of the brutal 1994 double murder of his estranged wife, Nicole Brown Simpson, and her friend, Ronald Goldman.
The day was Oct 3. What year was it?
Quote of the Week
"The secret of business is to know something that nobody else knows."
Aristotle Onassis
SUBSCRIBE TO OUR NEWSLETTER
NEWSLETTER ARCHIVES